Spray Foam Insulation Installation Guidelines
Spray foam insulation is a booming business right now, and it's easy to see why. In a time where both sustainability and savings are on the minds of Canadians more than ever before, hundreds of thousands of residential and commercial properties are turning to spray foam insulation every year.
However, although the idea of airtight, high-quality insulation that can cut costs and reduce your carbon footprint sounds appealing, the process can also be quite confusing. How exactly does spray foam insulation work? What makes it more effective than other options on the market? What areas need spray foam insulation the most?
If you're considering spray foam insulation as your next home improvement project, but aren't sure how to find out more, we have you covered. Below are all the necessary steps for long-lasting, cost-cutting insulation that will leave the world a little greener while you're at it:
Choosing the Right Insulation Contractor
Having great insulation starts with having a great contractor.
It's important to understand that spray foam insulation is not a project that should be taken on prior to a rigorous training and certification process. Although some big box retailers sell do-it-yourself spray foam insulation kits for a few hundred dollars, many experts agree that the best way to maximize both safety and quality is to leave the project in the hands of professional contractors.
Spray foam insulation is created when two chemicals—a resin and a highly reactive isocyanate—are combined to create a quickly expanding and hardening foam. The process of safely and effectively combining these chemicals is complex and requires cutting edge equipment and protective gear. For this reason, it's better left to trained professionals, for the sake of both your home and your safety.
Even if you're still only in the early stages of researching spray foam insulation, contacting a contractor can be helpful. Your contractor can guide you through the different forms of insulation available to you, as well as the areas in your house that need the most protection. Your contractor will also work with you to develop an estimate so that you can find an option that works within your budget.
Although there are many contractors available within the Greater Toronto Area, quality and experience are critical. Without the right contractor, you're vulnerable to mistakes that could cost you your health and your renovation budget.
Located in Toronto and available across the GTA, Spray City Insulation offers high-quality, affordable and completely safe spray foam insulation for both commercial and residential needs. Every single Spray City Insulation contractor is an experienced professional who has received top-notch training and is a recipient of Morrison Hershfield quality assurance certification. By leaving your insulation project in their experienced and capable hands, you're ensuring a well-insulated building for years to come.
Contact us today to get a free estimate
How Spray Foam Insulation is created?
Once you've found the perfect contractor for your needs, it's time to get your property insulated.
Spray foam insulation is also known as spray polyurethane foam (SPF) and is created as the result of a two-component process. At the job site—which would be your home or commercial property—your contractors will combine a resin with an isocyanate to create the SPF.
Isocyanates are highly reactive, low molecular weight chemicals that are frequently used to create multiple forms of insulation, as well as other protective materials. In most cases, the isocyanate will be mixed with polyol resin, although the resin used may differ slightly with every manufacturer.
Your contractor will combine the isocyanate with the resin under extreme heat and pressure. As this happens, the components will expand significantly, to up to 120 times the volume of the original liquid. When expanded, the product will look like a thick, white foam that may resemble shaving cream. The spray foam will then be applied to any space of your choosing.
The spray foam insulation process may sound confusing or even dangerous to the average homeowner, which is why it is important to understand that contractors are well-equipped professionals who are experts in layering, combining and mixing these chemicals.
During this process, unsafe or unpleasant fumes may be created in a process called off-gassing. Although off-gassing is still a potential risk of spray foam insulation, modern sprays have very few, if any, off-gassing properties. Overall, spray foam insulation installed by a professional will carry few risks to your home and your health.
To know how spray foam insulation created call us today at 437-912-9000
How is Spray Foam Insulation installed?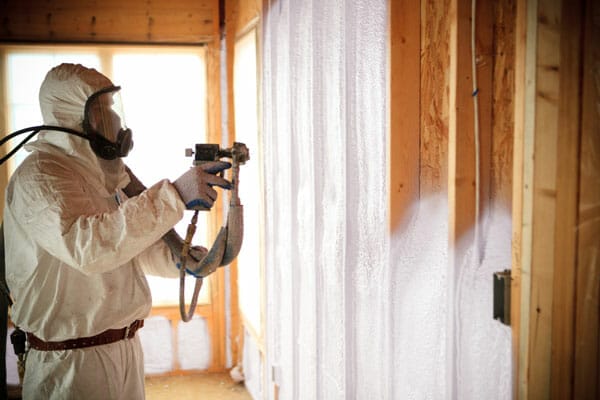 After the SPF is created, it will be sprayed out of large, professional-grade spray equipment. During this process, the foam will expand incredibly quickly, and harden into a dense blanket sealing the space.
Unlike other forms of insulation, spray foam expands as it is being applied, and leaves absolutely no seams or empty spaces. In just a few minutes, spray foam insulation can seal an area that would require hours of rigorous labour to install traditional fiberglass insulation.
Once the spray foam insulation is set, your residential spray foam insulation or commercial spray foam insulation property will be more than just protected from hot and cold air. Spray foam insulation will also act as a barrier to moisture, as well as pollen and other air pollutants. In other words, spray foam insulation not only offers an opportunity to save on electricity bills, but also to protect the health of yourself and your loved ones.
Although spray foam insulation is currently a very popular option in Canada, it's not the only insulation available to homeowners. Other options, including blow-in insulation and traditional fiberglass are also available. Each form of insulation, including spray foam, comes with its own set of pros and cons, but spray foam insulation is often regarded as superior for a number of reasons.
Spray foam insulation also offers a better barrier for small nooks and crannies that may be overlooked when installing other forms of insulation. Fiberglass, for example, may be able to cover small holes and cracks, but it will not be able to completely seal them. On the contrary, spray foam insulation is able to expand and create airtight seals where there once cracks and crevices that allowed drafts and moisture to enter the home.
Spray foam can be used to insulate all areas of your home, including walls, ceilings and under floors. Given their vulnerability to moisture and drafts, spray foam insulation is a perfect match for areas of your home such as your attic insulation, garage insulation or basement insulation.
In fact, one of the primary locations for hot air to escape a home is the attic. Not only does this mean that you've spent money on heating that won't even benefit your household, but it can also create ice dams during the winter.
Ice dams occur when, because of escaped heating, there is no ice of the top of a roof, but there is heavy snow and ice lining the edges. This can eventually lead to significant damages to your house, but the good news is that spray foam insulation can keep your heating inside your home, preventing ice dams from ever developing.
To know how spray foam insulation installed today at 437-912-9000 to know more details
What equipment is used?
At Spray City Insulation, a wide variety of leading edge equipment is used to ensure safety and maximize quality. By using interior open-cell spray applicators, better comfort from the cold and heat will come along with improved air quality and noise dampening qualities.
Spray City Insulation's equipment is produced by Icynene, a leading insulation company with a focus on eco-friendly, innovative technology.
How long does the process take?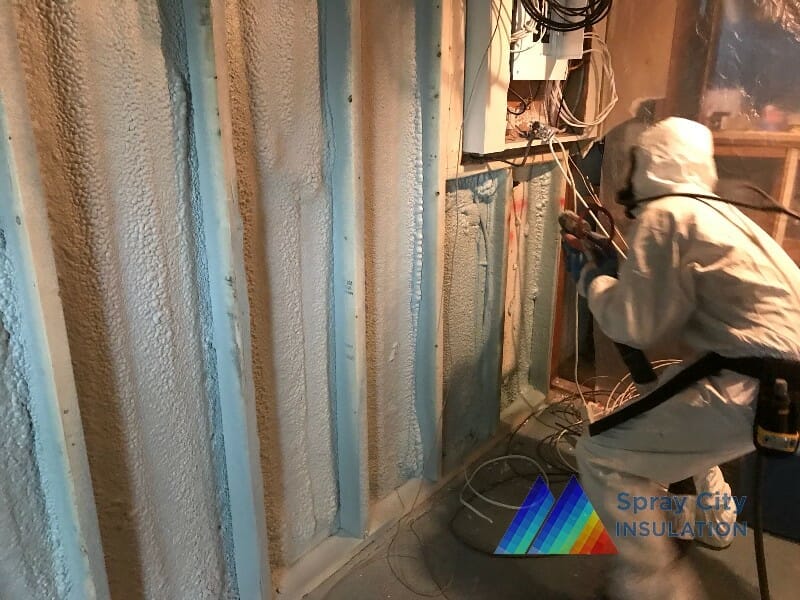 One of the many benefits of spray foam insulation is the fact that it is a process that is far from time consuming. Within just minutes of being mixed, spray foam insulation will expand to create an impenetrable barrier in your home. However, this does not mean that the entire installation process will last just a few minutes.
After being applied, the spray foam will need a certain amount of time to set. During this time, the spray foam will be flammable, and dangerous for anyone without the correct protective gear to be around.
For this reason, the home should not be occupied by humans or pets during the spray foam installation process. The exact re-occupancy time (the time between the beginning of the installation, and when families can return to their homes) is complex and based on a number of factors.
Some of these factors can include the temperature, humidity, amount of space being insulated, and the rate of ventilation. Typically, re-occupancy times can range from 8 to 24 hours, although some spray foam manufacturers recommend just one hour before being able to re-enter the home.
Although most contractors prefer clients to be outside the home for several hours, the actual occupancy time will depend on your household needs, as well as your personal comfort. Ultimately, the absolute best way to predict a re-occupancy time is to speak directly with your contractor.
While experts agree that Toronto spray foam insulation installation should be left to professionals, it is normal to want to be involved and informed on every step of the way. From researching options to returning to your home after the process is finished, it is important that you feel comfortable enough to ask questions to your contractor.
Before anything else, the first question you should be asking is how to get in touch with a great contractor. If you're interested in getting an estimate, you can contact Spray City Insulation, the premier Toronto spray foam insulation professionals, by calling us at 437-912-9000.
Why choose SCI?
Highest Standard of finishing
Compliance with standards and approval of supervision
Personal service and dedicated customer care
Commitment of deadlines
Daily Submission of documented work record
Experience in execution of over a 100 of projects
Let our certified technicians
keep you safe & warm
Spray Foam Insulation Services